Want more information about Twentynine Palms, California? Why not purchase a book with information about the history of 29 Palms. Books about The Twentynine Palms Marines, Oasis or Murals and so much more. These books are all nicely bound and would be a great gift for any reader.


Twentynine Palms has rich history dating back thousands of years. From native Indians who lived at the Oasis to the Gold Rush of the early 1900s through General Sherman, the U.S. Marine Corps and including the Mural projects, 29 Palms has been home to many historical figures. Read fascination stories and see pictures from "way back" as well as new additions.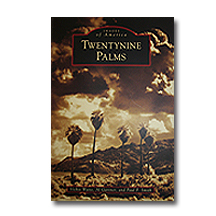 Available in both hardcover and soft cover, this book features color pictures of the giant, outdoor murals of Twentynine Palms as well as information about each mural's artist and the history the mural depicts. Learn about flash floods, native Americans, out Marines, coming home from war, desert flora, and animals as well as early settlers, miners, and pioneers. A beautiful way to remember your visit to Twentynine Palms, Oasis of Murals!